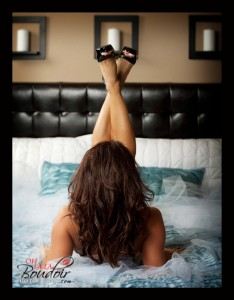 Maybe you've heard the term "boudoir photography", but just aren't too sure just what it is. All sorts of things start running through your mind….
Is that nude photography?
Well, no, not necessarily; it can also be a little white tank top and a pair of bikini panties. But it can be nude, if you want it to be and it's tastefully posed. There are also images called "implied nudes" that either look like you're nude, but you're not or perhaps you are nude, but the important parts are hidden by the pose itself. A well placed arm, leg, etc hides the details and really gets the imagination flowing!
Isn't that only for young, thin girls?
Absolutely not – the truth is that most women are way more beautiful than they think they are, regardless of their shape or size. Sexy is for EVERY body, honey – and lingerie is available in all sizes.
Boudoir is a French word with a rough translation of "a woman's bedroom or private sitting room". In photography, it describes personal photography of a woman for her husband, partner, significant other or maybe even just for herself! The photos can be taken in my private studio, a hotel room, a barn or even outdoors.
So who is a good candidate for boudoir photography?
A woman who is looking for a special gift for a birthday, anniversary or any other occasion. Let's face it – he's hard to buy for and you're getting a little tired of always giving him gift certificates. Knock his socks off with a custom designed photo book full of photos of you!
A woman who is confident in her body and wants to capture forever how hot she looks right now! Trust me ladies – age (and gravity) is inevitable so create a keepsake for yourself. Are you saying to yourself, "I should've done that 10 years ago." Really? What do you think you will be saying 10 years from now?
A woman who needs a confidence boost and to be reminded of how sexy she is! We all compare ourselves to celebrities and models in magazines, but it's certainly not fair when they all have professional photographers with professional equipment and retouching skills taking their photos and showing them in the best possible light. Now, you can have the same thing!
A woman who wants to celebrate a recent weight loss, make-over or other body changing milestone. Let's face it – that was hard! Celebrate your success with a memento that will last a lifetime, a book of you.
A woman who is 18 to 80 because there is no age restriction on sexy!
By the way, just because all of these start with "a woman" doesn't mean I won't also photograph guys looking for a sexy little book. I don't discriminate; DUDE-oir photography is also available!
Save
Save
Save
Save